Redlands Prologue
March 13, 2001
The real season has started. As usual, everyone is here at Redlands -- mountain bikers and road riders. The racing is great, organized, hard, and exciting.
Our team consists of Anne Samplonius, Sandy Espeseth, Chloe Black, Cathy Marsal, Erin Carter, and me. We all arrived in town on Sunday, set up in our host housing, and started getting acquainted. I have known Anne and Chloe for years. The others are pretty new to me. Everyone is fab! Cathy is the funniest. Her English is excellent -- in the few weeks she's spent in the States, she's found a beau, which has made improving her English much easier.
Still, she says funny literal French translations and makes funny French sounds and hand signals.
David Cathcart, formerly of Team Elita has come on board as our manager. In ten days he has rounded up a great group of sponsors and we look fab! In addition, Sandy's husband, Marc, is helping out for the next few races and Eva will be our mechanic for the year.
The prologue course was new. The first half was twisty turny rolling mostly up. The second half was a gradual, though very noticeable (small ring for sure) climb. For Intersports, the race went super smooth. Eva, Marc, and David took care of all the little details -- start times, water bottles, bikes, wheels, tire pressure, being at the start line, setting up trainers, and getting results. What a pleasure.
Sandy Espeseth was our star today, finishing 6th at 57 seconds back. Anne was 13th about 1:03ish back and I was 15th 1:13 back. Genvieve Jeanson (Rona) continued to romp on her competition, winning by just over 20 seconds. Lynne Bessette (Saturn) was second and Kim Bruckner (Saturn), who just won Tour of Snowy in Australia, finished third, 30-something seconds back.
After the race we all returned home, ate, rested up. Then, for dinner, it was my turn to cook. I treated the team to Liz's anti-parasite/candida food - basmati rice, tofu, veggies, with a tahini sauce. There was nothing left so it couldn't have been too bad. Let's just see how we race tomorrow!
Redlands Highland Circuit
March 14, 2001
For the first time in many years, the Highland Circuit wasn't the same old course. This year, we raced three times around a 25 mile loop. The notable aspects of the course were the potholes and a slight rise through the finish line up 8 kilometers to a QOM.
Not much happened in the race. Sandra Kolb got away for about a half lap taking one hot spot sprint at the finish and a QOM. Allison Dunlap (GT) won the other two QOMs. She is in the climber's jersey.
At the finish, Ina Tuetenberg (Saturn) sprinted the fastest. Unfortunately, she then crashed with her teammate Lynne Bessette, both of who went down hard. Ina was relegated for changing her line. Nicole Freedman was given the win. Jeanson second, and Lynne third. Sandy, Anne and I were in the top 20.
The team continues to eat well. Marc and Sandy cooked excellent spaghetti and meatballs.
Redlands Hershey TT & Oak Glenn Road Race
March 16, 2001
The time trial course was fun. Up a slow grind to the turn-around loop, which was twisty, turny, uppy, downy. Then screaming back down to the finish line. Anne Samplonius put in a nice TT, proving that it's possible to become fit by training indside a Canadian house all winter. She finished 7th. I struggled quite a bit and never really got going strongly. I finished 13th. Sandy finished 16th.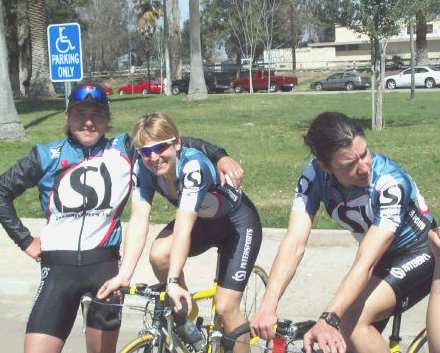 Genvieve continued her reign finishing 1st, just under 30 seconds ahead of Kim Bruckner (Saturn). Allison Dunlap finished third.
Anne Samplonius made beans and rice for dinner.
Then today we raced the famed Oak Glenn road race. This year they changed the old course a bit, adding a tough climb 20 miles into the 80-mile race. Another difference this year was the aggression. It started early and continued. Intersports got involved. I attacked very early getting no where, then tried again taking with me a group. It wasn't a smooth operation and we were caught. Erin countered with a group and they were away for a good number of miles. Genvieve's team kept at the front chasing them down. They weren't interested in letting a single rider, no matter how far down the GC list, up the road.
At one point, Genvieve got away with a group. Apparently, she drove the break, stringing out that group, until they were caught by the field led by 800.com.
Erin then got away again with Andrea Ratkovic (800.com), Annie Garriepy (AutoTrader), and Kim Davidge (Saturn). Again, Jeanson chased. The field was now at the left-hand corner at the bottom of the final (6 mile) climb. Jeanson did her thing, making the rest "look stupid" (said by a great climber). She won by 0:47 over Kim Bruckner. At just under 3 minutes were Kim Smith and Allison Dunlap in 3rd and 4th spots. Intersports' Sandy finished 9th, moving her into 8th overall. Anne Samplonius who rode great all day got a flat just before the climb started, taking her out of the real hunt for a top placing. I finished 24th, putting me in 16th overall.
Intersports continues to ride well together and to have fun. We're all excited about the racing this year as a team. We need to get some racing in our legs, I need to get bugs out of my system still. No problem. It all will happen.
Our hosts took us out for Italian food.
Redlands Criterium, Sunset Circuit
Race March 18, 2001
Many expected Saturn to go from the gun in an attempt to surprise Genvieve, who isn't the best criterium rider in the world. They didn't. Instead a break got off after about five laps, with Katrina Berger, Katie from Earthlink, and Annie Gariepy (AutoTrader). They stayed off for a very long time before any chase groups formed. Anne Samplonius got away with Andrea Ratkovic (800.com), Suzanne Sonye and others. Then Tina Mayola and Pam Shcuster bridged up. Then Cheryl Binney, Julie Young, Rhonda Quick, and I set off after that group. We caught them on the line with one lap to go when Pam Schuster attacked. The four of us hung on. The original group of three were still out front.
At the finish Katrina Berger blew her group away taking the win and moving herself way up in the overall standings. Katie was 2nd and Annie third. Tina won our group sprint for 4th place. Suzanne Sonye was 2nd for 5th place in the race. I was third in our group for 6th place. Anne Samplonius was 4th in the group for 7th place.
Cathy Marsal and Chloe made quiche lorraine, and a big salad.
Sunday turned out to be something else! The usual course had been altered somewhat increasing the length of the climb to around 2 miles or so. The race was 8 laps of a 6-mile loop then a descent back into town for the finish on the criterium course.
The climb up to the circuits was neutral. We all stuck close to the car. Genvieve too, was right there, being warned every mile to stay behind the commissar's car. Once the whistle went off, indicating race start, she took off, literally leaving everyone behind. At the top of that first climb she had 45 seconds on a chase group of 15 (including Sandy Espeseth of Intersports, Allison Dunlap, Caroline Alexander, Kim Bruckner, Julie Young, Katrina Berger, Andrea Ratkovic, and Suzy Pryde.) Behind that chase group was a field of about 40, including the other Interpsorts riders. Each lap, Genvieve put about a minute on her chasers! By the finish she won by eight minutes. It's amazing. Our group showed some interest in catching the chasers when they hovered at 1:30 ahead of us. After a few laps of that we gave up and rode the rest of the race at a comfortable pace -- sort of. There were a few riders, who uselessly wanted to go up the climb hard every time. We were losing 30 seconds a lap and the race was clearly up the road.
Sandy attacked close to the finish and stuck out there for a while but was caught. Right away, Suzy Pryde countered taking with her a mountain biker. Sandy was unable to go again after her effort. She won the group sprint for 4th place.
After the race, I packed up quickly and drove up North to Carmel to mom and dad's place where I'll stay until Sea Otter Classic next week. The rest of the Intersports crew will arrive Tuesday sometime.
Elizabeth