Solano Time Trial
March 29, 2001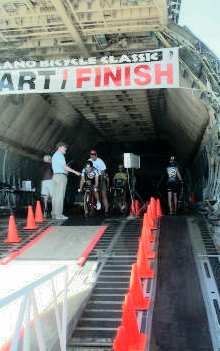 The Solano Stage Race takes place in Fairfield, CA, which is about one hour north east of San Francisco. We start with a 12-mile time trial today, Thursday. On Friday, we race a 75-mile road race, Saturday a criterium, and then finish off Sunday with a 70-mile circuit race through the neighborhood of our host family.
The time trial was on an Air Force Base. The start ramp was in a huge Air Force plane. Cathy Marsal marveled that after 20 years of racing she was doing something she had never done before. Being on an Air Force Base and being in this area the race was super windy. But like in all time trials the strongest rider won -- our own superstar Anne Samplonius. Second was Suzy Pryde of AutoTrader, third Katrina Berger of 800.com and fourth was me. After a terrible week on parasite medicine at Sea Otter, I feel better.
Anne 29:05
Suzy 29:19
Katrina 29:24
EE 29:32
Kim Bruckner 29:38
Kim Smith 29:52
Lyne Bessette 29:57
Anka Erlank 30:06
Pam Schuster 30 :13
Julie Young 30:32

Now, on to really important things. Last night our host treated us to incredible spinach lasagna, salad, green beans, and fruit salad. Then tonight our other host family treated us to grilled salmon, roasted turkey with onions, artichokes, asparagus, salad, and rice. We must have set up good food karma in Redlands making our own team meals.
Solano Jelly Belly Road Race
March 30, 2001
Well, you do it once you do it again! We won again! What fun. Our superstar hosts are taking all credit -- which they deserve for being great cooks and totally enthusiastic.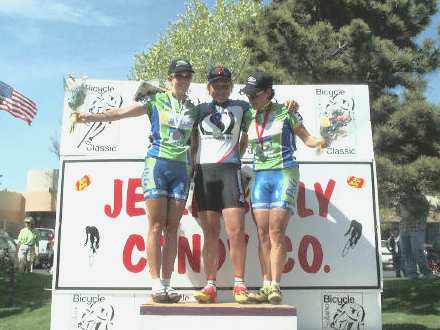 The course was 75 miles with a rolling start, flat middle, hills, and then a downhill to flat finish. We all started pretty mellow. Right around the hot spots at 20-30 miles into the race the wind picked up as did the pace. Saturn zoomed to the front, breaking up the field. Fortunately, Anne, Cathy, and Erin were in the front group allowing me to let the other riders in my group do most of the work, while I cursed for being too far back when the cross winds blew in.
Once Anne's group realized she was there they weren't so interested in pushing the pace. Ina (Saturn) attacked and Cathy Marsal went with her. Just as my group caught, Marjon (AutoTrader, from my group) attacked to bridge. Then Petra (Saturn) did the same. The four of them were off for many miles while the rest of us rolled along. The greatest gap they had was just under two minutes as we headed into the three climbs. These are new to the race so few knew what they would actually be like. The first rumored to be a big ring climb was harder than I expected and broke the group up.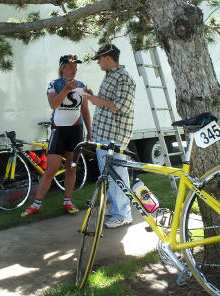 Saturn started to attack. What ended up the road was a group of Anne, Julie, Anke, Kim Bruckner, and the break, which they caught towards the top. On the next climb more shattering with Kim Bruckner off the front, then most of the break chasing her. Ina, Petra, and Cathy dropped off and joined our group. Katrina Berger (800.com) bridged to Anne and Julie.
The front group of about 25 came together on the descent after the second climb except for Kim Bruckner who was 40 seconds up the road. Intersports went to the front to chase her with some good help with from AutoTrader and Gary Fischer. The gap got down to less than 20 seconds. We eased up on the chasing. AutoTrader started attacking. Kim was brought back. The attacking continued to the finish.
The finish was rumored to be 400 meters from the last corner. My computer was off so every time we went around the corner I expected to see the finish.
I think everyone was doing the same. Finally, we rounded the final corner and the finishing banner was in sight but a long way off particularly in the head wind. All the sprinters had stood up to go and then hesitated. Cathy went and just kept going, cursing at herself about how long a way it was. She held the other two riders off in a photo finish for the second Intersports win in two days.
Tonight we will have a yummy taco bar dinner.
Solano Genisoy Criterium
March 31, 2001
Just quickly, today was the criterium. The course was flat and long -- two kilometers. Saturn certainly wanted to win. AutoTrader wanted to move Suzy Pryde into the overall lead. Suzy went from the gun, trying to take the field by surprise. Anne was all over that, no problem. Ina (Saturn) got away alone for a while. When she was caught, Petra (Saturn) got away solo. AutoTrader continued the attacks. Intersports was all over that, no problem.
Petra stayed away until the finish, earning the win and the sprint jersey (there were four hot spot sprints today). Suzanne Sonye (Saturn) won the field sprint for 2nd, and Joanne Kiesanowski (Proctor & Gamble) took 3rd. Erin Carter was 7th and Anne 10th. On the last lap, a few turns from the finish, a woman fell down in front of me. The pavement was poor there but she was also not handling her bike so well. Knowing I was in a bad spot, I had been hoping to move up on the next straight-away, and was therefore on the outside of her and the field. She fell. I rode over her and her bike falling slowly on the other side of her. Oh brother!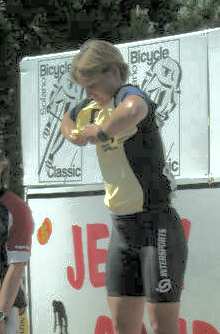 Quickly, I jumped up and untangled my bike and set off. I was quite sure we were within the final kilometer of the race, in which case she and I would be given the pack time if we crossed the finish line at all. Just the same, I hightailed it to the finish for good measure. Other than a small scrape on one knee I am completely unharmed.
Anne remains in first place overall. I remain in fourth. Erin is in 11th.
Our hosts outdid themselves this evening. We were served a Moroccan feast of grilled lamb kabobs, humus, olives, Greek salad, artichokes, asparagus, vegetarian stuffed red peppers, couscous with all sorts of yummy stuff mixed in, and the very famous Greek delicacy of Birthday Cake. (It was one host's daughter's birthday yesterday.) We will fly tomorrow!
Elizabeth