Sea Otter Stage Race
Prologue Time Trial, 2.5 miles
March 16, 2000, Monterey, California

Double days are hard no matter what. It's just hard to warm-up and start a second time. Today, our first stage started at 9AM which meant waking early to eat and get to the course for a good warm-up.

The course was one lap of Laguna Seca, the car racetrack. Charles Schwab rode the course when we got there and Marie Holjer, who did the race two years ago, did expert course analysis. We then all returned to the van, hopped on the trainers to get down to the real warm-up business. I was the last of the Schwab riders to go off and the fog had really moved in. It also was getting colder quickly.

Racing on the track was fun. It starts gradually uphill, then steepens significantly
Catherine Cardwell

(small ring standing). After the crest, there's a descending corkscrew into a series of more descending corners, then to a short out of the saddle rise, into more downhill and corners into the final stretch of head wind flats.

I used the superfast Morgul Aero AL, coming out of the aerobars in some of the corners. Lyne Bissette clocked an early fast time. Erin Carter took over the lead. I was one of the last riders to go off and finished third. All times were very close together.
Erin Carter-Elita@5:18
Petra Rossner-Saturn@0.3sec
Elizabeth Emery-Schwab@0.8sec
Lynne Bessette-Saturn@2.2sec
Mari Holden-Timex@4.1sec
Clara Hughes-Saturn@5.2sec
Susy Pryde-Saturn@10sec
Catherine Cardwell-Schwab@11sec
Kim Smith-Timex@12sec
Tina Mayolo - autotrader @13

Criterium, 26 laps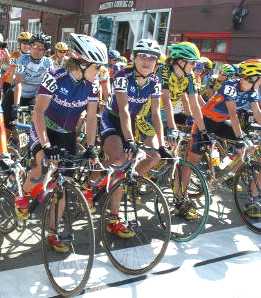 The second stage that day was right on Cannery Row, with tons of people watching and cheering. That was super cool and made up for the bumpy finishing stretch, road turtles, and high winds.
There were two time bonus sprints during the race. Schwab did an amazing job of assisting me in getting those.
Going for bonuses

But, in the end I didn't go fast enough to gain any of those bonus seconds. After many very short-lived attacks we finished in a field sprint. Petra took the top spot on the podium, Karen Dunne next and Laura Van Gilder third.
Petra Rossner-Saturn
Karen Dunne-Elita
Laura Van Gilder-Schwab
Tina Mayola-AutoTrader.com
Mari Holden-Timex