Sea Otter Stage Race
Fort Ord Road Race
March 18

Through many, rainy winters, I've ridden in Fort Ord. The course is rolling with two climbs, that both stair-step up for a mile and a half or so. This year we had nothing but sun unlike the cold rain of last year. At Laguna Seca, where we start and finish, the mountain bikers are doing there thing and many bike stuff vendors are doing theirs. It's quite a scene. And I got third overall.
This is Pam Schuster's report and she pretty much covers it. Visit her website at www.pambike.com -- EE.
"Today's stroll through the park featured a total of 7500 ft of climbing that shredded the international field into numerous groupings and regroupings. Going into the secound major climb a break of 5-7 riders got a 30 secound gap. We had Julie Young-Autotrader.com and Schwab had Catherine Cardwell. Timex had Kim Smith with Odessa Gunn bridging with Katrina Berger of Janes Cosmetics. Elita had Sophie St Jaques.
This created total carnage on the climb with the peloton splitting. The first and second chase groups both had Saturn chasing hard going into the final climb bringing Petra Rossner in smelling distance of holding onto her yellow jersey.
Karen Dunne
Petra Rossner
Mari Holden
Marie Holjer
Elizabeth Emery
Tina Mayola
Katrina Berger
Lara Ruthven
Sara Letkimaki
Julie Young
The only thing I can add is that Elvis does live. I saw him. I know I did out there in Fort Ord cheering for me as I struggled each time up the climb. This is now the second Elvis sighting I've had this year (the first being in the Sunset Loop of Redlands, which I never wrote about). Both races were extremely hard for me. For a few weeks my legs have been screaming at me to stop all this bike riding nonsense. Both races forced me to reach new levels of gut-wrenching tenacity.
Here, at Sea Otter, I was fortunate enough to be in Petra's group and was able to ride the Clara and Nicole Reinhart train back to the lead group. The two of them showed tremendous strength which I've seen often in Clara but Nicole, a sprinter (formerly a track sprinter even) showed that she has more to offer than her fast twitch muscles. It helps to have a strong leader like Petra who made it very clear that she needed to get back to the lead group. I heard her say, I can do it if you get me there.

Laguna Seca Circuit Race
March 19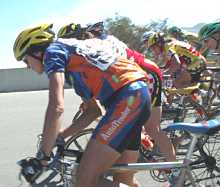 Pam at the front


The next day, Saturday, we returned to Laguna Seca racetrack for the final stage - a 12-lap (27 mile) circuit race. With the time differences between the top 10 still seconds and three time bonus sprints (8 and 4 laps to go and the finish) plus the sprint jersey (9, 7, and 5 laps to go) up for grabs, the racing became aggressive, fun and exciting.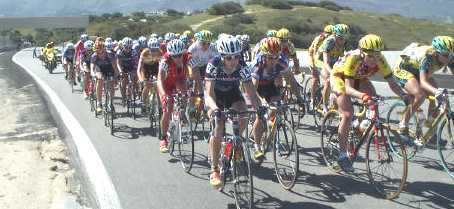 Team Elita made an impressive showing by setting up Sophie St. Jacques for the points sprints. She came through by winning the jersey. Because I was only one second ahead of Lynne Bissette for third I needed to cover her in the time sprints. I failed at doing that and she got time with 8 laps to go. Mari and Petra were also going for those sprints because they were only 5 seconds apart. At the four lap to go sprint the same thing happened. Laura Van Gilder helped me, I didn't sprint well, Lyne, Mari and Petra among others went for the time.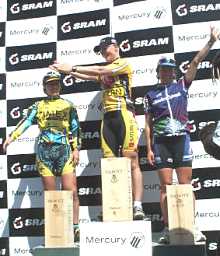 Final GC -- Mari Holden second, Petra Rossner first, and me.


After this sprint Mari continued fiercely up the climb spreading out the field and getting a tiny gap with a few of us who had gone for the sprint.

The field was right there, Lyne was on Mari's wheel and everyone re-grouped. In the last laps there were attacks by Pam Schuster (autotrader) Leigh Hobson (Schwab) and Maureen Vargara (800.com), the last few of which came on the final climb creating a strung out field sprint. I was in the front and a gap opened up with Lyne somewhere behind that gap losing her the seconds she had gained in the time sprints so I regained third overall.

Petra proved her point and won the stage with Tina Mayolo (autotrader) second and Mari third. Schwab won second place in the team GC." -- Pam Schuster