Schwab Training Camp
February 12, 2000

Rain, rain go away, come again some other day -- like when I get outta' here.
Thursday afternoon, I flew to San Francisco for Charles Schwab Cycling Team Training Camp. Catherine Cardwell and Armin picked me up at the airport. We then waited for Kern Taylor, Heather Albert, Leigh Hobson, and Laura VanGuilder. Marie Holjer arrived Wednesday night from Sweden. Nicole Freedman lives in the area, as does Julie Schwab. Because of bad weather, Laura, Heather, and Leigh were delayed. Catherine, Kern and I drove to our hotel in Tiburon while Armin waited at the airport.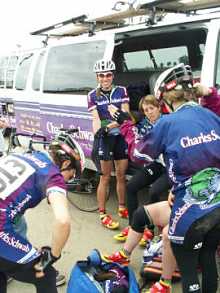 The next morning we headed off, in the rain, to our photo shoot by the Golden Gate Bridge. With the downpour we shot only one set of pictures in a one-way tunnel, jumping out of the way, every time a car wanted to drive through. The police escort we had (someone has connections) helped to steer the traffic around us. Next, to the photographer's studio, where he, Mark Leet, took individual shots, headshots, and a bunch of group shots late into the night. Halfway through we drove to the Schwab building for a reception to meet the Master's team, and Len Short, our supporter at Schwab. He was impressive, as were the master's guys, one of whom jumped on the desert plate and never left it. A man of my own heart, he also had a pound of coffee beans in his knapsack. A multi-talented addict.
Today, the fun ride at 9:30 AM was canceled. Instead, we met with the Time representative in the morning and then drove down the coast to San Luis Obispo, where we'll spend the rest of camp.
During all this time, Mike Berna, our mechanic, has been putting together our new Dean bikes, sizing them for us, getting the wheels together after finding the delayed shipment, trying to keep us from dirtying the bikes in the rain, and organizing the van. Julie has been working on clothing, the photo shoots, and finalizing incoming product.
One of our cool new sponsors is Zoic (www.zoic.com), who makes super great clothing. They use wonderful fabric. The fit is well done and well thought out. His aim for the year is to have us race in baggy shorts. It's important to aim high.