McClane Pacific Criterium
28 miles, 35 laps
February19, 2000, Merced, CA

Our first race as a team! What fun we had! The race started with 61 women: six of us, four Saturns, 3 million AutoTrader.coms, Odessa Gunn of Timex, and many racers from all over California.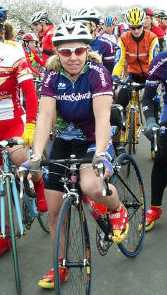 First of all, and most importantly, we look great. Our outfits are beautiful cranberry and purple with some green and white. (On the purply background is a globe and a tickertape.) We're racing in Rudy Project Kerosene glasses. (They fit snugly on my head and the lenses wrap around my face, not letting in air nor sun glare. These are the best, most sturdy racing glasses I've ever worn. Plus, they're designed in Italy, and therefore extremely stylish!) Our Dean bikes are a dark, royal navy with purple and green highlighted decals.
The first three laps were prime laps, getting the speed up right away. Saturn took control for those laps -- it seemed from where I was in the back after my usual slow start. Overall, the race turned out to be pretty fast for a first-of-the-season crit, though, no one has extraordinary speed this early.
Many primes were offered even after the first three laps. Laura with incredible leadouts from yours truly, won four. It was also exciting to see how well our team worked together throughout the race. Not one break got away without Schwab representation. We all took turns working in the front of the field covering attacks. Even Catherine Cardwell, who represented herself as not a crit rider proved herself wrong and raced well. Dede Demet is her usual aggressive self, as was Pam Schuster.
In the final sprint, I gave Laura a leadout. Dede and Lynne Bissette led out Nicole Reinhart. Unfortunately, Saturn had their act together better than we did and Nicole won with Laura crossing the line very shortly after her. Tina Mayola was third.