Oak Glen Road Race, Redlands Stage Race
66 miles
March 11, 2000
The Charles Schwab Cycling Team is now without doubt the best looking, most stylish, super-coolest team out there. We got a package today of Charles Schwab cycling caps. They are purple and blue and magenta and green with the globe and ticker tape.
Before the package arrived we raced hard up one of the hardest climbs in the racing circuit - Oak Glen. The climb is the last 6 miles of the race. Prior to the climb, the course is flat to rolling with two sprint spots and two hill sprints.
Our pace was very slow. I wish I could tell you why that was. In my mind, there were a handful of riders who could win on the climb. Everyone else needed to figure out another way to win the race. Our team goal was to keep me in third overall, which, unfortunately we/I, weren't/wasn't able to do. Leigh Hobson, a Charles Schwab rider, not riding for the team here, finished an awesome third.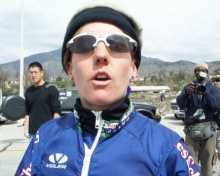 Leigh Hobson


Late in the race, a small break of Julie Hanson, Laura Van Guilder, Sophie St Jacques, Kim Bruckner got away. They never got a very far and the pack stayed very aware of what was happening up the road. They were caught and we headed on to the headwind frontage road, which leads to a little climb. Everything remained controlled, though much more nervous, as we got close to the real climb that would clearly determine the race.

We all made the left hand turn at the bottom of the climb. Pam Schuster had attacked a bit before, giving her a slight head start. Nicole Freedman had gone after her, so she too had a head start. Allison wasn't going to let either of them get very far. Allison also wasn't going to give anyone an easy time on the climb. She started attacking right away, over and over, checking back after each one to see what kind of damage had been done. I lasted a few of her attacks and then lost contact with the small group that formed ahead of me.

In that group were Allison, Caroline Alexander (mt. biker), Leigh Hobson, Annie Gariepy (Elita), Julie Hanson (Saturn), Lynne Bissette (Saturn), Chantal Daucourt (mountain biker), Allison Sydor (mt. biker), and Cybil DiGuistini (Elita). (Many of you must be wondering why are there so many mt. bikers at this race and doing well. I found out yesterday that on March 4th, there was the last mountain bike qualifying event for the Olympic Long Team so they are all flying after peaking for that. Also, mt. biker's have always done this race and have always done well here. Allison continued to attack with Caroline doing the same. The two of them got away from the rest of their group and continued to build a lead.

Leigh's group stayed together until a few kilometers to go when she attacked, leaving the others behind. Before that, Julie Hanson, climbing extremely well, set a constant pace with the aim of keeping Allison's gap in check for Lyne, who was having a hard time of it.

In my group, I climbed hard, struggled to hang in and finished strong. Kim Bruckner attacked our group with 5ks to go and I wasn't able to go with her. By the top, what had been our group, was completely splintered.

Caroline Alexander
Allison Dunlap @ :15
Leigh Hobson @ :45
Chantal Daucourt @:48
Julie Hanson @ :48
Allison Sydor@ 1:09
Lyne Bissette @1:20
Cybil DiGustini @1:25
Barbara Blatter @1:31
Kim Bruckner @1:31
Ruthie Mathes @1:31
Annie Gariepy @2:21
EE @ 2:30

Catherine Cardwell @ 2:44

This dropped me down to 6th in GC and brought Leigh up to 4th with the same time as 3rd.