Time Trial, Redlands Stage Race
10 miles
March 10, 2000

Prayers were answered and the sun came out today. Good for me. While, I managed to ride in the front yesterday (unlike during the Visalia Criterium where I pretended to be Rebecca Twigg and dangled off the back the whole race), I didn't enjoy racing in the rain and I particularly didn't like warming up in the rain.
The race today was an individual time trial. In a time trial each rider races alone on a set course and the one to do so in the shortest time wins. In stage races the last place rider in the general classification starts first and the first place rider in GC starts last.
Our stage today started at 10:00 AM with each rider heading out at 30-second intervals. After the Highland Circuit Race I was in 17th place. I went off at 10:40:00. Allison Dunlap, in first place after winning yesterday's stage, went off last, just under 10 minutes later.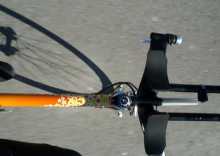 My 2000 time trial bike is the new Morgul Bismark super-fast Aero AL (named by Morgul). It is an orange to yellow fade with stars. From last years TT bike we made a few changes - the biggest being a front 700c wheel instead of the 26" wheel I've used for a few years. The new UCI rules require both wheels of the TT bike to be the same diameter. I chose two 700c wheels. With the changes in bike geometry, I am still getting used to the fit and making adjustments in the seat and handlebar positions. Today was a test ride of sorts. Like last year's bike, Aero AL handles and climbs great, though, I was definitely not 100% happy with the position I had set up. It amazes me what a minuscule adjustment in seat height, aerobar angle, or the distance between the seat and elbow pads can do. Thinking about it, of course, I realize we pedal, on average, 90 pedal strokes per minute for many hours each day. It's no wonder we feel even the tiniest change.

The 10-mile course was a false flat for 3 miles, then a very slight down hill followed by a climb up to the half-way point where we turned around and headed back down to the start.

I am frequently asked how I go fast in time trials.

First, I was born that way.

Second, I prepare well. Yesterday, we drove the course. Last night, I was careful to eat well and not too much. I went to bed early and thought about the race. This morning I ate my normal breakfast of oatmeal. Once on site, I pre-rode the course with Charles Schwab teammates. Then, I grabbed some SmartFuel and got on to the trainer to start the same warm-up I always do. It gives me comfort to do the same old thing every time. Finally, I rode to the start line with enough time to stretch a bit and focus on the upcoming effort.

The race itself was like any time trial. Go fast the whole time. With 30-second intervals and long straight roads it was easy to concentrate on the rider ahead and use her as a rabbit. I thought mostly about pedal efficiency and keeping the speed up. Coming into the finish I saw my speed at 59 kph. Of course, heading out, I was much slower.

As I crossed the finish line I posted the fastest time - 25:11. There were still 16 other riders to finish, so we waited. All looked good until the ever-powerful Allison Dunlap came across with a 25:00. Charles Schwab had an impressive showing all around, putting us into second in the team standings. I am now in third overall, following Lynne Bissette and Allison Dunlap.

Allison Dunlap 25:00
EE (Charles Schwab) @ :11
Lynne Bissette (Saturn) @ :23
Annie Gariepy (Elita) @ :43
Clara Hughes (Saturn) @ :48
Katrina Berger (Harbor Lights) @ 1:04
Leigh Hobson @ 1:13
Tina Mayolo-Pik (autotrader.com) @1:14
Catherine Cardwell (Charles Schwab) @ 1:25
Cybil DiGuistini (Elita) @ 1:26