Street Sprints Prologue, Redlands Stage Race
200 Meters
March 8, 2000

Here we are at the first big stage race of the season - Redlands Classic. This is one of the good ones! The community is behind it, the organization is usually good, and everyone, at least in the women's field, is here: Saturn, AutoTrader.com, 800.com, Charles Schwab, P & G, Voler, Elita, Polo, GT, Volvo/Cannondale, US National.
This year the race starts with Street Sprints, then we do the Highland Circuit Race, a 10-mile Time Trial, Oak Glen RR, Redlands Criterium, and finally on Sunday, the Sunset Loop.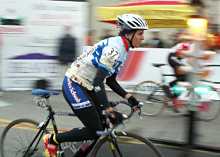 Once again, it is wet here in sunny California. This afternoon's race was in drag-race form with a green light indicating GO and a banner and finish line 200 meters later indicating STOP. Each pair went off at 30 second intervals creating a large mass of people at the start line.
My partner was Gabriella Gonzalles S de Ferra, the rider with the longest name in the pack. I felt good, thanks to Nicole F. reminding all of us to lift our knees for more power. Just the same, I ended up somewhere in the top third. Nicole was the only one who rode a top 8 qualifying time. However, she was given a one-second penalty for jumping the gun. A completely unjustified penalty, we decided.
Nicole Reinhart won, Petra took second, Tina Pik (formerly Mayolo) third.
Highland Circuit Race, Redlands Stage Race
13 laps, 37 miles
March 9, 2000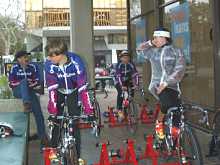 Highland Circuit Race has been part of Redlands for years. Kids from local schools line the course, cheering us on and begging for water bottles. Fewer than normal came out today because, guess what, it's raining. And this morning at 8:45 it was also cold.
I wore a rain cap, a wind shell, a turtleneck polypro, arm-warmers, a short-sleeve jersey and shorts with nothing on my legs but SixtuFit Sport Cream and Warming Oil. I still felt the cold. The one most effected by the cold was our climber Catherine who finished the race shivering and goose-pimply.
The course starts and finishes at the top of a steep, two-block climb. We then descend and twist and turn through housing and end up facing the climb again. Saturn was aggressive trying to send either Julie or Clara off. Anke of AutoTrader worked to get a break going. Lynne Bissette (Saturn) took the hill sprint points every third lap. Allison Dunlap stayed up front the whole time, spinning comfortably up each climb. The pack stayed together.
With two laps to go Clara got away alone with a fierce attack down the right side of the descent while everyone rode down the left. Elita turned on a strong chase, stringing the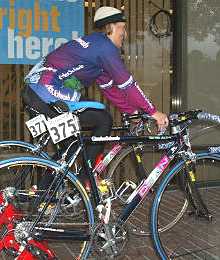 field out for both remaining laps. Clara was caught right at the bottom of the steep part of the climb. Allison finally stood up on the climb and beat everyone else to the line. Lynne was second with Tina third and our own Leigh Hobson (riding on Team CliffBar) taking fourth. Marie was in the top 10 and I just behind. Laura finished in the main pack of I don't know how many.
We pray tonight for clearer weather.