National Championship Road Race
Jackson, Mississippi
May 20, 2000
WOW! What an amazing race. During the race, I thought about how far women's racing has come since I began in 1992. The field really raced aggressively.
The course was undulating with the only big undulation being a stair-step a mile from the gradual uphill finish. We did 8 laps of an 8-mile course. Autotrader started attacking on the second lap. Pam Schuster ended up getting away with Suzanne Sonye (Saturn) for a few laps. While they were away Timex made efforts to get someone up the break or to close the gap. Our Sandra Kolb and Katrina Berger were doing the same. Many of the smaller teams and independents were doing the same. The result was the regrouping of the field.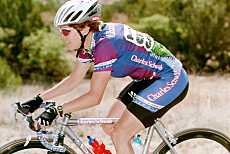 The attacks continued and a group of four got away: Julie Hanson, Jen Dial, Pam Schuster again, Kim Smith (Timex). At two laps to go, not much after the break was formed, Nicole Freedman made a truly remarkable bridge on the finishing stretch and then Mina Pizzini (P &G) bridged a bit later. Dede tried over and over to bridge as did other Saturns because Julie wasn't feeling great. With everyone's eye on her and them, they never made it very far.
The Schwabies were happy with the break. Nicole certainly was the best sprinter of the group. Evan watched from the big screen and said when Nicole attacked on the hill before the downhill to the uphill finish he thought, "What the hell is she doing?" What she did was get a gap, cause huge hesitation in the remaining group, get caught, lead out the sprint to win by more than a bike length. She then kissed the ground and rolled all over the place expressing total excitement that one would expect with such a big win.
She, of course, got wisked away by press, drug control and podium people. I did see her way in the distance once. Beyond that I had to try and understand some of what she was saying on the podium. She was so excited she lacked any sort of clarity, except to say that this was like a dream. Well, it was clear she was happy.
Pam was second and Mina Pizzini third.