Mercury Criterium
Washington, DC
May 27, 2000

Keeping the momentum going, Charles Schwab won again.
The primary characteristic of the course was that it was wet. Rain started as we were staging and continued throughout the race. Other than that the course had two long straights and then tons of corners at each end. Many of those corners had bad road surface and odd camber. My aim was to stay out of trouble by being up front.

Jen Dial (Proteus) went right from the get go and I headed off after her at a moderate pace. She kept gaining ground. Hoping someone (on my team) would take the opportunity to bridge, I stayed on the front to keep Jen's gap in check. Katrina Berger, our newest rider, did just that. Those two worked together building their lead to just under 20 seconds. Autotrader made some moves to get into the break but nothing successful. Mina Pizzini doing what she did last week in Jackson, bridged solo after her teammates made some attacks. Then there were three.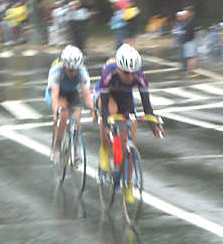 They worked together while Laura VanGilder and I stayed in the front creeping around all the corners to slow the field down. Not hard in the rain. The gap grew and grew past one minute. Tina Mayola tried many times to get across and being the National Cup Series Leader, too many people were on her right away.
Another notable team was CRCA (my own hometown favorite) who stayed up front and made good efforts to get away from the field - particularly Ann Marie Miller and Catherine Powers.
With five laps to go Katrina started attacking. Jen got dropped. Katrina continued to attack with Mina staying close with her. However, in the sprint Katrina outflew her breakaway partner to win her first ever National Calendar Race.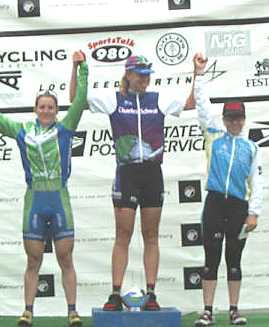 I take full credit for the win, as any good teammate should. Yesterday, I convinced her that it was OK to win and stand out in a crowd. In honor of the 50th anniversary of Peanuts, like Lucy, I asked for 5 cents for the psychology treatment.
And on a sadder note:
There was a great loss recently in the entertainment world and there was no mention in the news media. Larry LaPrise, the Detroit nativewho wrote the song "Hokey Pokey" died last week at the age of 83. His death was particularly difficult for his family. They had trouble keeping him in his casket. They'd put his left leg in and....well you know the rest