Tour de L'Aude
Prolouge Time Trial
Carcasonne, France, Friday, May 7, 1999
Hey, guess what! I got 4th in the prologue! Very cool. Best yet was that I got on the podium, got flowers, got a nunu (stuffed animal) dressed in a cycling outfit to match the red jersey I also got. (They gave out all the race leader jerseys -- race leaders, stage winner, top under 23, sprint, points, mountain -- to the top six places in the prologue).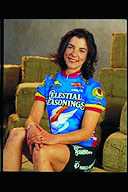 Did I mention I was riding my super-pro, beautiful, Morgul Bismark, beautiful Time Trial beautiful bike? I was. I just can't get over how great that thing is.
The top six riders were: Hanka Kupfernagel 3:00 Clara Hughes 3:04 Anna Wilson 3:07 moi 3:09 Lynne Bissette 3:09 I forget
The prologue was a 2.4 kilometer circuit. We rode in the am to check out the course and to do a little warm-up ride. Then we hung out, ate lunch, and rested. We were staying in a resort/kids camp? area. I remember the place from last year. I remember how gross it was. No towels, soap, dirty floors, depressingly run down and no e-mail! Breakfasts so far have been meager -- bread and jam, coffee, yogurt, sugar and smacks (it's a kids camp). Oh, and it is DAMP. All our clothes are damp whether we've worn them or not. Anything we've worn riding is flat out wet and stays that way. (This morning after breakfast we drove to our next spot.) This hotel is a hotel with a public phone.
I was the first rider of our team to go off and the 7th in the race at 4:07pm. We went off in one-minute intervals so there was no chance anyone would catch her minute rider. Jarek, our director here followed each of us for mechanical support. Since I had the beautiful time trial bike, he had my road bike as a spare just in case. I felt good and very focused, concentrating on my ride rather than on what else was going on around me. In these Euro races there's a lot going on. Tons of spectators even in the damp weather (not rain until a few sprinkles late in the line up). They all look over our bikes, wheels, anything fancy like the Profile aero brakes I am using this year, heart rate monitors, bike computers, trainers. Warming up is always an exercise in concentration.
I felt good during the ride and my legs, especially below the knees, hurt a whole lot afterwards. The had people passing out bottled water after the finish and I couldn't even grab one. I rolled around a bit in a cool down strip they had and returned to the van.
Our next rider was Giana with 3:14, Leah 3:23, Pam and Julie 3:25, and Gale 3:38.