Another Day at L'Aude
France, Monday, May 10, 1999
Teamwork is essential
"I flatted at the bottom of the climb. My change was quicker today; and, furious at my bad luck I managed, with the help of Leah Toffolon, to get to her group. I went through that group and caught the caravan of team cars. Taking some crazy risks on the narrow roads I somehow managed to catch back on to the front group." -- Giana Roberge

I thought today I would answer some questions I received. The field is about 100 which is typical in these Euro stage races. There's always a moderate drop out rate unless it's the 1998 Tour de France which had a 50% drop out rate. Drop outs occur from crashes, illness, and then riders just not making the time cut which is, I think, 30% and 35% here, depending on the length of the stage. Many teams have young riders that do the races for experience. They don't always make it. On the other side of the coin there are always under-23 riders who are in the top 20 or higher. Not from the US.

When asked about the differences between US races and Euro races I always say the depth of the field. There is always close to a full field of really strong women who are fighting to get up front and stay there and to win. Then, you have the aggression involved in staying on a wheel or in position because the Dutchies are SO big and man, know how to use their largeness. And then lots of the riders, despite racing in fields like this all the time, don't seem to know how to ride or take corners.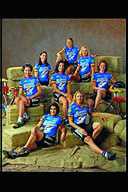 The other difference is the roads. Here they are just so frickin' narrow and twisty, hence the need to be up front all the time. Today was particularly windy which made the narrow twisty roads and big field even more of an issue. I do find it difficult to be up front. One thing is it's always a fight to be up there. Being up there means getting there, moving back a bit as others move up and then getting back up there. At the very front, you can stay in position and of course you are taking all the wind. Plus, for me, any time there's a climb, I end up moving back (not on purpose, if you get my drift). After the climb, I move back up or chase back on depending on the severity of the incline.
After the bad place we stayed on the first few nights -- the grungy place with no email -- all our hotels have been great. The last two nights the rooms were nice but had sagging beds. Gale slept on the floor the second night. It was also right by a train line, an active train line. However, the food was incredible.
Tonight and tomorrow night we're in deluxe accommodations -- big rooms, big nice beds, great dining area, email, and located right in town, which is a tiny little town with very narrow, winding streets and great little shops like the fromagerie and patisserie (not that I got some really nice goat cheese or wonderful fruit candies, a chocolate cookie or a croissant or anything).
All the hotels are of the smallish type. We stay in some French chains. Mostly, in this race we stay in private hotels run by French locals who speak French only and really like being involved in the racing. Today the chef and waiter asked us all for autographs. The chef had us sign his chef coat. The weather's been good. Today was cloudy and I got a bit cold late in the race. Not too bad though. I've been wearing shorts and a jersey with a sleeveless polypro underneath. So far we haven't climbed to a high enough altitude (I don't think) to effect the temperature much. Yesterday, a big climbing day was very warm. Every day, after the race, we jump into clean dry warm clothes pretty quickly.