Wendy's International Cycling Classic
July 25-30
The Charles Schwab Cycling Team is in Columbus, Ohio area racing the Wendy's stage race. This is the first year the race has been scored on time. The first day was a 7-mile time trial. The course was fun - sort of a clover leaf: on a bridge over the river, right turn to ride parallel to the water but up high, another right down to the bike path along the water, under the bridge we started on, then another right taking us back up to a road parallelling the water, then right again on the bridge over the water to the finish. With the rough road, rises and head wind, the course was difficult. Anne Samplonius won with 14:33, Annie Gariepy 2nd, Catherine Cardwell 3rd. Our Katrina Berger 6th and me 8th.
The next day was the first of four criteriums. The course was a rectangle next to a huge shopping area (fancy mall) being built in three stages. Phase 1 is complete and busy. The race was fast and aggressive. We all stayed together for a big field sprint won by Karen Dunne with Julie Young 2nd and Laura Van Guilder 3rd.
Karen Dunne who had gotten 5th in the TT took over the lead with the 10 second bonus for the win and winning the mid-way time bonus. The rest of the top GC stayed the same. Laura moved up to 13th. Sarah Ulmer leads the Saturn Teamwork Challenge Sprint competition.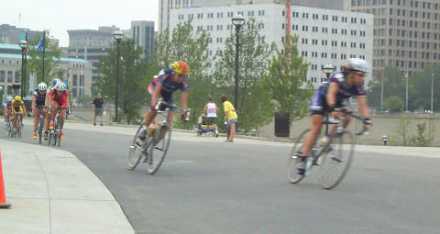 Yesterday, for the 2nd of the many criteriums, we raced on a 1-mile up and down course. The hill was steep in parts and long enough to be a real leg buster at the top, as it flattened out.
Again, we raced fast and aggressive. Many groups got off for short periods. The sprinters were sitting in, waiting for the right move. With about 5 laps to go, Andrea Ratkovich attacked on the hill with Julie Young, Karen Dunne, Sarah Ulmer, Nicole Reinhart, Katrina Berger, and one other rider going with her. With the right rider from many of the teams in the break, and the blocking abilities of Pam Schuster the gap grew quickly. In the end, they gained more than 45 seconds. Nicole won, with Karen Dunne 2nd and Sarah 3rd. Katrina took 5th.
All the races have been late in the day. Tonight's street sprints start at 8pm so we'll leave our hotel at 4:30. (We are staying quite a ways out of town so are driving an hour to and from each race.) The rest of the day is spent sleeping late, riding in the morning, eating, reading, watching the TV, and shopping at Walmart which is right down the street from our hotel.