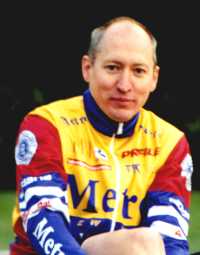 A fine artist, Rick is building an international reputation for distinctive, pretty pieces that combine repetitive, "machine-made" patterns with a human touch.
An accomplished mountain-bike racer, before joining our team Rick rode for the New Jersey-based Navigators, Team Brooklyn ATB and CRCA-Tom Cat.
He is married to Lee Kennedy and lives in the East Village.

****

Team member 1998-2002
Category 3, masters 40+